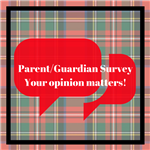 We want to know what YOU think about your child's school! We value your opinion and ask that our parents/guardians take just a few minutes to complete this survey. The survey will remain open through December 5.
The information from this annual Parent/Guardian Survey helps us improve student relationships, learning conditions, and the school's overall environment. This is an anonymous survey and your answers are confidential.
We do request that parents/guardians take the survey only once per school for which they have students enrolled. For example, if you have a child at Covington, one a Carver, and one at SEarCH, you can take the survey three times. Otherwise, you should only take the survey once.
Click here to start the survey. Thank you in advance for your feedback.
---