Class of 2020 - Graduation Update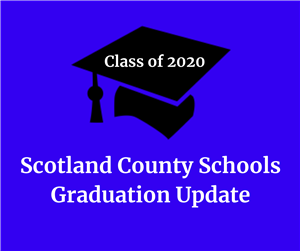 On Wednesday, the Graduation Planning Committee reconvened with the addition of student and parent representation from SEarCH, Shaw Academy, and Scotland High School and discussed graduation ceremony options for the Class of 2020. The committee's unanimous decision was to hold drive-thru graduation ceremonies now and if restrictions are lifted or lessened, to hold a more traditional graduation later.
During a special called Board of Education Meeting on May 21, district administration shared with the Board the committee's recommendation for graduation celebrations. The Board voted and approved the committee's recommendation to hold the drive-thru graduation ceremonies on the following dates:
SEarCH – June 2 with a rain date of June 3
Shaw Academy – June 4 with a rain date of June 5
Scotland High School – June 8 – June 11 with a rain date of June 12
Principals will be posting and sharing with seniors tomorrow (Friday, May 22) a more specific schedule and individual graduation times for students.
In addition, the Board approved the date of July 18 as a date for a more traditional graduation ceremony should CDC and restrictions from the Governor's Office allow.
---