Summer Choice Board Activities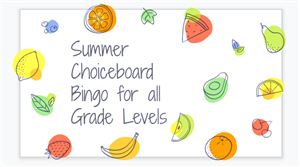 Hey students and parents/guardians! Click here to check out a great summer learning opportunity...and also a chance for some recognition for your school and for a chance for you to win a prize. For students that complete a BINGO, bring your choiceboard and your products/project to your homeroom teacher at the beginning of school or submit virtually once you get your teacher assignment for next year. We are looking to see which school has the most BINGOs once school resumes. You will also have a chance to get a premium Scotland County Branded Facemask for completing!
*What is a choiceboard? A choice board is a collection of assignments that students may elect to do based on their interests. They may complete the assignments in any order and the object is to get a traditional BINGO by finishing a minimum of five (5) activities in a row, column, or diagonally.
---