Superintendent Search Community Survey
Superintendent Search Community Survey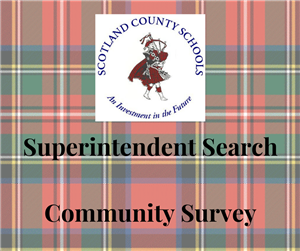 Message from Board of Education Chair, Mr. Rick Singletary:
Scotland County Schools Parents, Guardians, and Community Members,
As you know, our superintendent, Dr. Ron Hargrave will be retiring on October 1. We are thankful for his years of service to Scotland County Schools.
What this means for our district is that we must begin the process of hiring a new superintendent. It is critical for the success of Scotland County Schools that this decision is one that's not made without input from our stakeholders. What you have to say about the qualities that are most important in a leader for our district will be very helpful as we go through the hiring process.
Click here
for the link to a survey that we are asking all stakeholders to take. It will only take a few minutes to complete and it is a completely anonymous survey. If you would prefer a paper - pencil copy of the survey to take, they can be found at the front desks of our schools or Central Office. All responses must be submitted by August 10, 2020.
Thank you in advance for your honest input and sincere comments. And as always, thank you for what you do for the students of Scotland County Schools.
---