Virtual Meet-and-Greet with Dr. LeGrand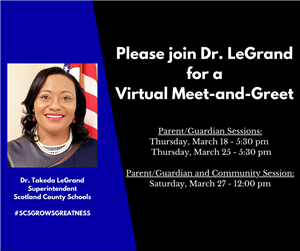 Please make plans to join Dr. Takeda LeGrand for one of our upcoming Virtual Meet-and-Greet Sessions with the Superintendent. You can click on one of the links below to register for a session. Once registered, the meeting link will be emailed to you.
If you do not have a personal email address, you can use your student's email address to register. To view the meeting, you can use your home computer, electronic tablet, or mobile device.
Parent/Guardian Session - Thursday, March 18, 5:30 pm:
https://zoom.us/webinar/register/WN_QAwZ5UZNRXSPsQ0iiAwdDw
Parent/Guardian Session - Thursday, March 25, 5:30 pm:
https://zoom.us/webinar/register/WN_FSRuX7fnSDGdp-GUHOP-Gg
Parent/Guardian and Community Session - Saturday, March 27, 12:00 pm:
https://zoom.us/webinar/register/WN_qkGtUlKySy6lqzndHJ4eTg
---