Bridge to College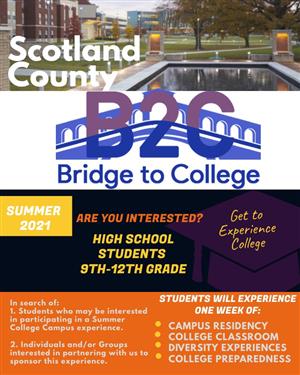 A group of Scotland High School alums are working to provide high school students from Scotland County a week-long experience of college life through the Scotland County Bridge to College Experience.
In an effort to gauge interest so that they can effectively plan, they need to know if the interest exists. Additionally, they are seeking sponsors to partner with them in the effort to ensure all expenses are paid for each scholar who desires to participate.
The endeavor of this experience is to grant students from our community exposure to college life with hopes of igniting a desire and interest for students to attend college.
Please email Reverend Darrel 'BJ' Gibson at dgibson@scotlandcounty.org or contact him before Tuesday, April 13, 2021 to simply share interest. Please include the student's name, grade, phone number for a parent, and email address.
Those interested in being a sponsor are asked to also contact Rev.
Gibson as soon as possible with your name and contact information.
---