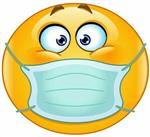 Is Your Child Too Sick to Come to School?
Sometimes knowing when to keep your child at home is a difficult decision for parents. Unnecessary absences interfere with learning, however little learning takes place for the child when sent to school sick. Illnesses can be spread quickly in a classroom. Here are some guidelines that are meant to be helpful when making the decision about sending your child to school. Please do not send your child to school if they:
Are complaining with a severe headache
Have a fever of 100 or higher
Have vomited the previous evening, during the night, or the morning before school
Have thick yellow or green nasal discharge
Have inflamed eyes or have thick, sticky, yellow or white drainage
Have severe cough and cold symptoms
Children should be fever free for 24 hours (without the use medication) before returning to school (Fever is defined at 100.4 F or higher). Children that have been vomiting or have had diarrhea need to remain at home until the vomiting or diarrhea has stopped for 24 hours.