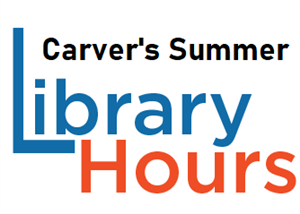 The Carver library will be open on selective days throughout the summer. Students are invited to come browse and check out books for summer reading.
Wednesday, June 9 1:00-4:00
Tuesday, June 22 9:00-12 noon
Wednesdays June 30, July 14, July 21, July 28, August 4, August 11, and August 18 will be 9:00-12:00
THURSDAY, August 5 from 9:00-12:00
***Dates are subject to change due to summer maintenance. Please check this website before attending.
---