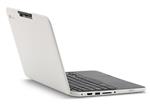 Chromebook Forms and Fee
The Chromebook fee ($25 per student) can be paid online with a debit/credit card using the below link.
To pay online, CLICK HERE.
Students are required to complete and turn in the Acceptable Use form and the Signature form before a device is issued to them. Both can be accessed below.
Students/parents/guardians can also pay the Chromebook fee at Carver Middle with cash or a check.
To view the Chromebook information packet, CLICK HERE.
You can also view an informational video prepared by Scotland County Schools Central Office by CLICKING HERE.
To access Chromebook forms, click below.
---