See Something. Say Something.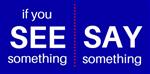 See Something. Say Something
Everyone is concerned about school safety. It has been, is, and will continue to be our Board and Administration's top priority for our schools to remain a safe place to learn. We have a multitude of safety measures and procedures in place in our schools and district offices, but we know that even with all the camera systems, drills, and exercises we conduct, our most valuable security system that we have on our campuses each day remains the many thousands of eyes and ears of our students and staff. We can't stress enough how strongly we encourage anyone and everyone to say something to someone – a teacher, a counselor, an administrator, or law enforcement personnel – if they hear or see anything suspicious or ever have any concerns. Let us teach our children to always be kind. Let us do everything we can, with all that we can, to ensure that our schools and community remain safe.
---